Nasi Bryani
Pronounced 'nah-see bree-ahn-nee', sometimes also spelled 'nasi brani' or 'nasi briyani'. This refers to a rice dish often eaten with chicken or mutton curry. The rice is cooked with fragrant spices such as cloves, cardamon, turmeric and saffron, the last two of which are responsible for the yellowish-orange tinge. Good eating outlets will use the aromatic(and more expensive) basmati long-grained rice.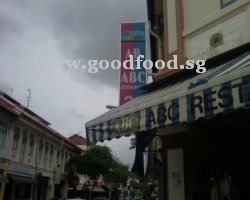 AB & ABC Restaurant is at a corner shophouse of Joo Chiat Road and Duku Road.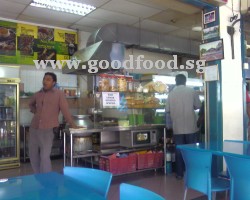 You can get a range of Malay-Indian food and snacks here.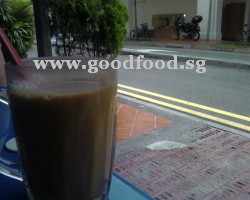 Not your usual teh tarik - try the masala tea (teh masala or masala chai) which is made with a blend of spices including cloves and cinnamon.
Categories: Halal-Muslim, Nasi Bryani, Roti Prata, Teh Tarik, 24hrs, Mutton Soup (Indian Muslim)
Located at 365 Joo Chiat Road, Singapore 427610

Show me on map
This is a cozy Indian-Muslim tea and makan place nestled among the shophouses of Joo Chiat. One of the few roti-prata-teh joints that serve masala tea (chai) in Singapore.
Email this page
---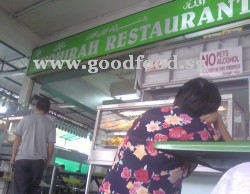 Thohirah Restaurant, the other Jalan Kayu prata place.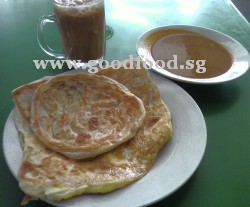 Roti prata kosong and roti prata egg with the usual teh tarik
Categories: Halal-Muslim, Teh Tarik, 24hrs, Nasi Bryani, Roti Prata
Located at 258 Jalan Kayu., Singapore 799487

Show me on map
This is the other major prata shop at Jalan Kayu. A decent place for a decent piece of prata, but not exactly one that I'll go out of the way for (and it IS out of the way unless you live nearby in Jalan Kayu, Yio Chu Kang Road or the recently populated Sengkang East / Fernvale HDB estates. There's an LRT station (Fernvale) nearby, probably 10 minutes' walk or more away. And it seems a future one (Thanggam) will be even closer. Go figure.
Email this page
---

login
to post comments |
email this page